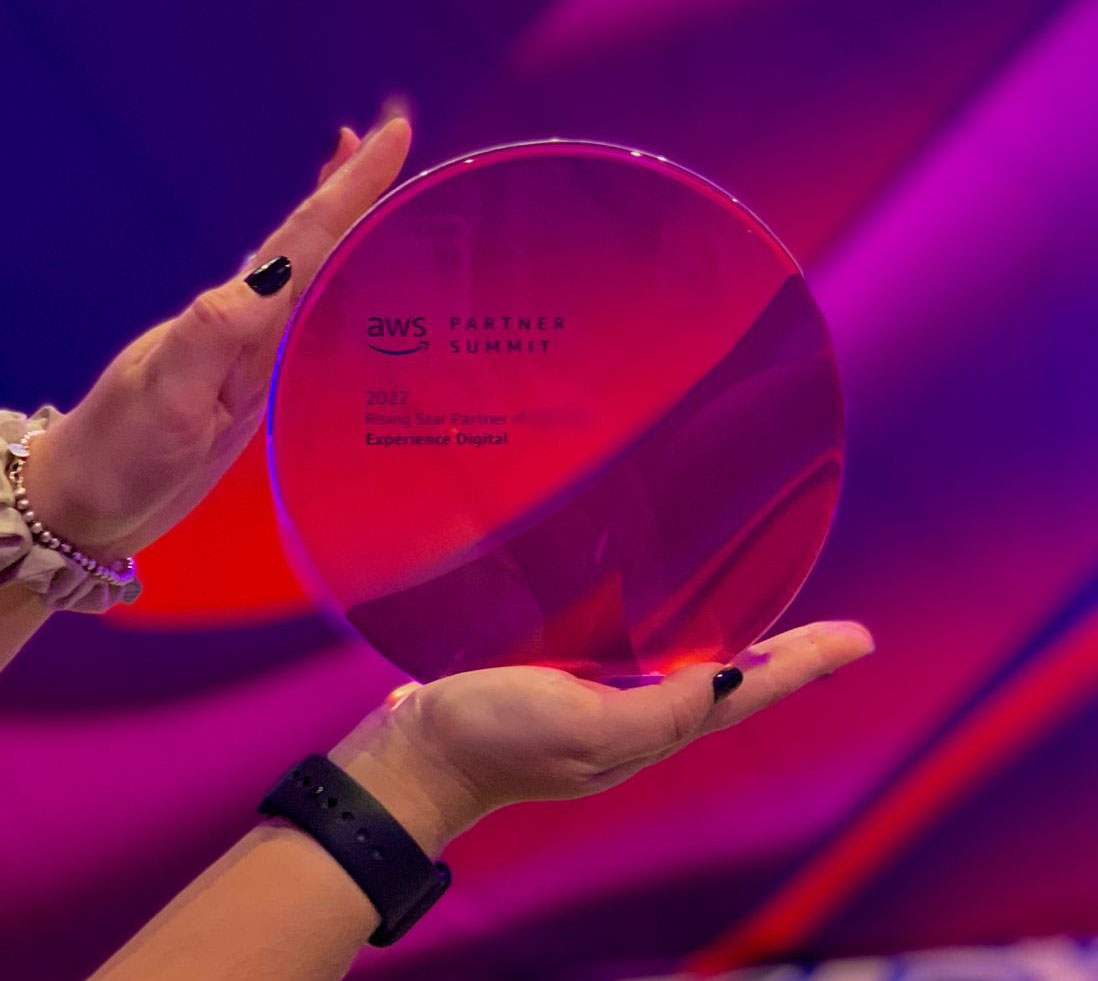 Experience Digital was incredibly honoured to be crowned AWS Rising Star Partner of the Year 2022.
Each year, Amazon Web Services (AWS) recognises key leaders within the AWS Partner Network (APN) for their contributions to driving innovation and growing successful cloud businesses by leveraging AWS. As part of the AWS Partner Summit ASEAN on 17th May, AWS hosted an intimate Partner Summit Awards event at Dolton House, Hyde Park Sydney to publicly announce the winners of their 2022 awards.
Experience Digital was recognised for assisting MedHealth with the national roll-out of their purpose-built assessment tool that converted paper-based resources into a digital toolset. As a result, MedHealth experienced a 100% shift to the digitised tool out of their 20,000 national registered user base.
The celebrations were elevated as AWS honoured the 10-year anniversary of the APN program this year and the incredible contribution their AWS Partners have made in driving digital transformation across their ANZ customer base over the past decade.
After only joining the APN Program 2 years ago, Experience Digital has rapidly grown to 70+ employees globally, with offices in ANZ, Southeast Asia and Europe. Recognised now as an AWS Advanced Tier Services Partner, Experience Digital boasts 10+ years of experience in technical consulting, focused on driving collaboration through their customer-first mentality. Specialising in digital transformation, cybersecurity, cloud migrations and web app development, they rely on AWS for their suite of purpose-built tools to deliver high-quality customer projects.
"At AWS, we ensure this expertise is maintained through our new Partner Paths program, and APN differentiation programs such as our Competency, Service Delivery, and Service Ready programs. We also augment this with relevant training offerings which help partners deepen their AWS knowledge and skills, differentiate their business, and better serve their customers. Congratulations to all of this year's winners." – Sumal Karunanayake, AWS Head of Partner Sales, ANZ.
Having achieved competency in AWS Lambda and on track to complete 3+ additional competencies in 2022, Experience Digital invests heavily in its partnership with AWS. In 2021, they grew their team by 180%, with their dedicated AWS team including the acquisition of an AWS Community Lead, their goal is to exponentially grow within the AWS segment. Through completion of 60+ AWS certifications and accreditations, they are well on their way to achieving Premier Tier due to their transient capability across a range of AWS focus areas.
"We are absolutely thrilled and incredibly grateful to be crowned as the AWS Rising Star Partner of the Year in 2022. Over the past two years, we have heavily embedded our business in the AWS ecosystem to solve our customer's hardest challenges with the right digital solutions. This award acts as a testament to our team's incredible partnership with AWS. This is only the beginning of great things to come!" says David Theodorou, Founder of Experience Digital.
AWS' Rising Star Award specifically recognises partners for their investment & growth within the AWS space through analysis of factors including customer satisfaction, case studies and AWS-built offerings. Boasting 1300% YoY growth in the AWS segment in 2021, Experience Digital has proven its contribution to the partnership.
Alongside the likes of Deloitte, Accenture and Tata Consulting Services, Experience Digital was delighted to be recognised for its involvement with AWS. Having been selected for involvement in multiple Startup & SMB Programs designed to fast track AWS customer success, Experience Digital continues to dedicate its time to this partnership & prove its stake in the wider global AWS community.
Experience Digital recognises and congratulates the other award finalists including TechConnect & Lancom Technology for their immense growth in the AWS space over the past year. Watch the full ANZ Partner Summit 2022 Awards evening on-demand here.
"What a huge achievement for Experience Digital to be crowned as Rising Star Partner of the Year for 2022! This award really solidifies all of our efforts over the past year with AWS and sits with everyone from strategy, marketing, sales and delivery. Congratulations to the finalists and winners of the other Partner Awards." – Holly Hudson, AWS Community Lead at Experience Digital.
About Experience Digital
Experience Digital is a trusted digital software, data, automation and systems integration house with 10+ years of expertise in cloud technologies and business applications. With a focus on digital transformation, they specialise in cloud migrations, application development and cybersecurity. With offices in Australia and Europe, servicing a range of customers internationally from startups to enterprises and government to the private sector. What sets them apart is their approach to projects centred around transparency, collaboration and thinking big. For more information, go to experience.digital